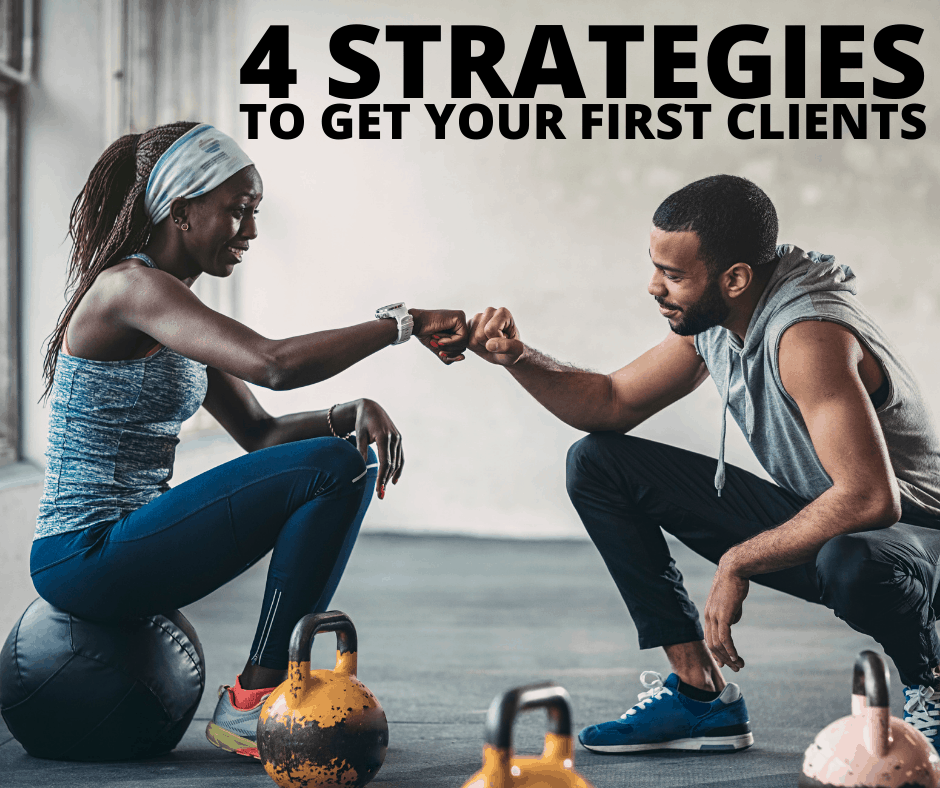 If you just got certified, then you're probably excited to start working with people and help them reach their health and fitness goals. However, there's one problem you're likely to face from the get-go – not having any clients yet.
Getting your first clients is like getting your first job. You don't have any past experience that demonstrates that you're good at what you do, but you can't get any experience unless someone gives you a shot.
Talk about a catch-22.
The good news is that if you're willing to step up and put in the effort, then you can absolutely get your first couple of clients by using some time-tested methods that won't leave you feeling slimy.
Fortunately, we have some experts on staff here at Axiom Fitness Academy and we asked them to give us their best strategies for getting clients when you're just getting started. Want to know what they had to say?
Read on to learn their 4 smart strategies and how you can apply them right away.
Tap Your Existing Network
Many new trainers overlook the fact that they already have people in their current network that are interested in losing weight, building muscle, or improving their fitness. Whether it's a family member, close friend, or even a social media acquaintance, there's a good chance you already know someone that needs and wants your help.
Axiom Head Instructor and veteran trainer, Joe Drake, says to use the Jon Goodman approach to find your first clients: "let your contacts know you are just getting started and looking for some motivated and open-minded people to be your first of 5 clients you are taking on. This could easily be done in a few social media posts and even in private messages to friends or family to take advantage of the low hanging fruit in your network."
Suzanne Weinstein, Axiom Instructor and owner of Element 5 Fitness, agrees with Drake and adds that you should, "Let your inner circle know what you're up to. If you don't tell people what you're doing or how you can help, then they won't know." Additionally, Suzanne recommends asking one or two of your contacts to be a "trial client" where you work with them at a discounted rate or for free to get experience and use their results as marketing material.
It's clear then, that if you're trying to get your first client or two, you should take the reins and let everyone know that you're a trainer and are taking on new clients instead of just waiting for people to approach you.
Become The Resource
Despite there being an abundance of information on the internet, most people that want to improve their fitness still don't know what to do. In fact, the problem now is there is actually too much information and no easy way to filter it.
The real role of a personal trainer nowadays is that of a guide. Someone that not only filters the information for you, but also tells you what to do with the right information by creating a plan of action.
So, your goal should be to become "the resource" to your potential clients by providing valuable information and insight about all things fitness related.
Axiom Instructor and owner of Iron Gang Fitness, Josh Gangaware, says, "You need to give potential clients a reason to listen to you. Make the complicated simple and give them directions on what to do and why." He recommends writing blogs, posting on social media, and having conversations with people that reach out for help.
Gangaware says that "if you help someone with something small, you build trust and eventually they'll feel comfortable paying to have you help them with bigger goals or their whole fitness regimen."
Offer Free Or Discounted Trials
You probably didn't get into fitness to make money, but you probably can't work for free either. And you shouldn't.
Personal training is an expensive service, and some people are unwilling to shell out hundreds or thousands of dollars without knowing what their experience will be. That's why it's often necessary to offer some type of free or discounted trial to build trust and demonstrate your value when you are just getting started.
Be careful with how much you giveaway for free or discount though, because this can be a slippery slope and some people might try to take advantage.
Drake recommends offering short assessments or consults for free but adds that "Any free offer should be time constrained or create some sense of urgency so people don't see it as worthless." He says you could phrase it like: "Just this week and next I am offering up my time free of charge as I am dialing in my skills and experience getting people started."
One thing is for sure – you'll get more opportunities to work with potential clients by discounting your services and that means you'll have a higher chance of landing a new client. However, you'll want to be mindful of your value and use this method strategically.
Find New Ways To Get In Front Of People
After exhausting your personal network, you'll likely have to expand your network or leverage someone else's to get in front of potential clients.
Your first move should be to harness the power of referrals. If you have a client or two already, asking them to make some introductions to people that might enjoy working with is a strong way to capture new clients. Often, your current client will be singing your praises and do the hard work of making you look good and instilling trust.
Megan Drake, a personal trainer and Marketing Specialist here at Axiom Fitness Academy, suggests having your clients bring a friend with them to a session. She also recommends teaching classes or workshops that attract the specific type of clients you are interested in working with.
"It could be a mobility class, women's only class, or athletic development class. Running classes make it easier to get the types of clients you want and get in front of a lot of people at once" says Drake.
Josh Gangaware agrees with Drake but adds that "working with other professionals can also be a great source of referrals." He says that "meeting with local chiropractors, physical therapists, or other health professionals has brought him clients and created opportunities for him to run seminars or clinics that were attended by those outside his network."
Keep Your Head Up
The process of becoming a personal trainer is a lot of fun, but there's little information covered in the textbook about finding and signing up new clients. There's no doubt that initially you'll feel like a fish out of water when it comes to getting over this initial hurdle, but all of our experts agree that with the right mindset and a little hustle you'll be successful.
"You have to re-frame the way you're looking at the situation" says Joe Drake. "It's not just about selling, it's about serving. And you can't help anyone with their fitness if you can't get them to buy in."
Interested in learning the basics of becoming a succesful personal trainer? Register for our signature 6-week personal training certification course or speak with an advisor today!